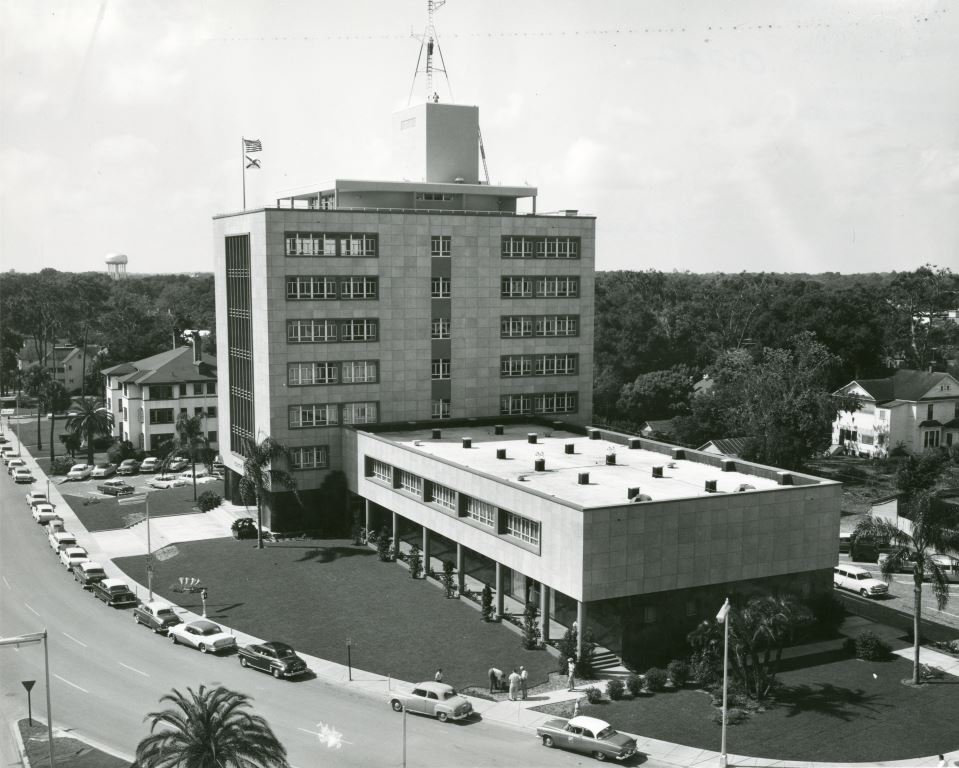 Over 1,000 buildings with Mesker building components ceased to be for a myriad of reasons including fires, tornadoes, urban renewal, neglect, stupid men, or their combination. However, only one Mesker's demise was planned to be a spectacular visual effect immortalized on the silver screen.
Orlando's third City Hall (but first built for this purpose) was designed by noted Orlando architect Richard Boone Rogers (1905-1998). Dedicated on October 3, 1958, it replaced the old Orlando Public School Building on South Orange Avenue as the main seat of city government, a function it served since 1924. The modernist structure cost $1.6 million to complete and was faced with Tennessee marble, Minnesota granite, terrazzo, and featured combination casement and awning/hopper aluminum windows manufactured by the Mesker Brothers Iron Company (the building was mentioned among completed installations in the company's 1961 catalog). Totaling 85,000 square feet, the 8-story building was air-conditioned and had fallout shelters. It also had the infrastructure required to support an additional six floors. This never came to be.
By 1988, the city government had outgrown its home and recognized the need to build a new one. A new City Hall was completed in 1991 at a cost of $32 million—a 9-story, 200,000 square-foot Postmodernist structure with a 120-foot copper dome and granite facades. By July 1991 the old City Hall was abandoned and since it stood just a few feet in front of the new, the City of Orlando wanted it gone in order to create a landscaped commons that would serve as the entrance to the new facility. But instead of using a wrecking ball, they planned to implode it.
Through the marketing efforts of Orlando-based production manager Ross Testagrossa, the city government's desire to demolish the old City Hall attracted the attention of Hollywood production company Silver Pictures. Eventually, the City of Orlando and the parent studio of Warner Brothers reached a $50,000 agreement for exclusive rights to footage of the implosion, estimated to cost around $80,000. The building's destruction was captured for the opening sequence of the action movie sequel Lethal Weapon 3, starring Mel Gibson and Danny Glover. The movie begins with LAPD officers Riggs and Murtaugh (played by Gibson and Glover, respectively), responding to a bomb threat at International Control Systems, Inc. (played by the old Orlando City Hall). Needless to say, the two heroes barely escape with their lives before the building is engulfed in a fiery blast. They do, however, manage to rescue a cat (see the movie clip at bottom of post).
What most eventual moviegoers would never realize is how closely this scene flirted with actual disaster. With the new City Hall built just four feet behind the old one, engineers Mark and Doug Loizeaux of Controlled Demolition, Inc. had no room for error. For nearly ten months they meticulously planned the implosion so that the 180 pounds of explosives placed inside key pillars would drop the building at a slight angle to the east and away from the new building. Despite extremely precise calculations, a $20 million insurance policy was still furnished to cover the safety of the new City Hall.
The demolition team also had to coordinate with special effects and pyrotechnic crews to create an explosion fit for a Hollywood action film. An initial, bright flash was followed by 4,000 pounds of exploding glass, cork, and paper before the bottom four floors erupted into flames. The entire intricate delay sequence, which utilized 400 special effects charges, had to be perfectly timed with the actual implosion, with only one chance to get it right.
On the evening of the implosion, nearby office towers hosted exclusive "implosion parties," and thousands of people gathered along Orange Avenue and other vantage points outside the six-block safety zone to watch the spectacle. When the big moment finally came, the long months of planning and preparation paid off—at 1:24 am, October 25, 1991, the 33-year-old building collapsed in less than six seconds, and unbelievably without a single scratch to the new City Hall.
Lethal Weapon 3 opened in May of 1992 to great cheers and no sorrow. Following a general screening of the movie, one Orlando viewer was quoted as saying "I don't give a damn about Orlando City Hall. I want to see Lethal Weapon. I saw Lethal Weapon 1 and 2 and I'll see Lethal Weapon 26 if they make one." I admit that I enjoyed these movies as well and that the building might have been too new to be considered historically significant, but I hope that these sentiments aren't reflective of our collective values—willingness to ignore civic responsibility in return for mere entertainment. While the fate of the old Orlando City Hall and a 1,000 other Meskers is already sealed, it's never too late to start giving a damn about our heritage.